First Release-Candidate of our video playback software. Main changes:
Keyboard and joystick control support.
Improved video performance in most scenarios.
Fixed video problems with some dual VGA + S-Video output display adapters.
More info and downloads (forum article)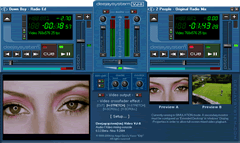 Feel free to send us your comments and suggestion throught the Beta Testing forum or directly to us.